---
Your Ad Here
Click here to learn more
---
---
Your Ad Here
Click here to learn more
---

The Aerobics & Fitness
Association of America

---
Your Ad Here
Click here to learn more
---


The PGA of America
---
Your Ad Here
Click here to learn more
---
---
Your Ad Here
Click here to learn more
---
---
Your Ad Here
Click here to learn more


Careers & Certifications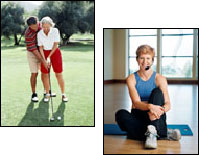 Consider a New Career!
Welcome to the Career Center. If you have considered becoming a certified Golf Fitness Pro, PGA Teaching Pro or a general Fitness Pro, get started today by using the links below..
| | | | | |
| --- | --- | --- | --- | --- |
| Golf Fitness Instructor | | | | Golf Fitness - Join the men and women who have become Certified Golf Fitness Trainers and become part of the fastest growing sport in the world! This program was developed by Kelly Blackburn, the PGA TOUR & Champion TOUR fitness consultant. See Program. |
| Golf Instructor | | | | PGA of America is the major association of certified Golf teaching professionals. Click here to become a certified golf teaching professional call PGA of America headquarters at (561) 624-8400. |
| General Fitness Trainer | | | | The Aerobics & Fitness Association of America houses top certified fitness professionals including group and private trainers! Click here to become a certified fitness professional! |
---
Why teach Golf and Fitness? What's in it for me?
Golf is the fastest-growing participant sport in the world. The golf and fitness industry increasingly demands more semi-private and cost-effective instruction. The benefits of our Golf Fitness program has a proven record at the highest level of the sport…i.e., PGA TOUR professionals. Added distance off the tee, increased power behind the ball, more consistency through 18 holes, a higher level of stamina for the finishing holes and increase in overall fitness!
We can show you how to take an area as small as 6"x 6" and turn it into a profitable space! Golfers are accustomed to working with their teaching professionals on a 1:1 ratio or in teaching clinics with a 1:3 ratio or slightly higher. As you can see below, our Atlanta instructors are reporting income as high as $72 per hour. The 1:1 ratio minimum is determined by adding 20% to your normal one-to-one charges because this is a sports-specific and unique program. See example below:


Atlanta Market Income:
(Average training hour: $60 + 20%)
$72 per session for a 1:1 ratio (instructor/client)

Let's say you teach 20 sessions per week. Based on the Atlanta market figures, that's an income of $1,440 per week. In your first year you could potentially add $74,880 to your bottom line!
Get Started Now! Click here to learn how easy it is to start your career (or add to your current Fitness business model) in this growing Golf and Fitness